CONSTRUCTION LITIGATION
Construction is a very large industry in New York, and projects often involve many players and strict deadlines. It is not uncommon for owners, architects, engineers, general contractors and subcontractors to find themselves facing complicated legal issues that must be resolved in a timely manner to keep the project on schedule. In our construction litigation practice, we do just that – help our clients navigate the complex and thorny path towards resolution and keep the project on target.
At Bedell & Forman LLP, we represent parties involved in every aspect of the construction industry, including residential and commercial building owners, developers, general contractors, subcontractors, architects and engineers. We regularly review, draft, and help negotiate construction-related contracts in order to minimize the potential for future disagreements or disputes. But when disputes do arise, we work with our clients, as well as the parties on the opposite side of the table, to reach favorable resolutions and at the same time preserve key relationships.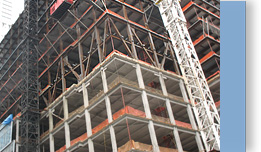 "Litigation" is a bad word in the construction industry, because it often means project delays. Whenever possible, therefore, we work with our clients to prevent conflicts and disputes from arising in the first place. When litigation is necessary, however, we have extensive experience in the prosecution and defense of all types of construction claims brought by or against our clients in both state and federal court, including claims for temporary restraining orders and injunctive relief. We have experience handling cases involving heavy construction disputes, the construction and renovation of brownstones, cooperative and condominium apartment buildings, and public works such as underground sewage pipes. We also pride ourselves on having significant experience handling disputes between adjoining landowners, which is a common occurrence in New York.
Below are examples of the types of matters we handle in our Construction Litigation practice:
Negotiate and draft construction, license and indemnification agreements

Represent cooperative and condominium boards, as well as residential and commercial building owners, in cases against contractors, architects and engineers involving defective construction work

Represent clients in insurance and other coverage claims

Represent general contractors in connection with all legal aspects of construction projects

Defend property owners and contractors against alleged building code violations

Represent architects and engineers in malpractice actions

Assist property owners in obtaining restraining orders and injunctive relief against adjacent landowners for improper construction work on the adjacent property

Litigate design and construction defects

Prosecute and defend against special proceedings brought under the New York Real Property Actions and Proceedings Law ("RPAPL")

Counsel clients on the management and avoidance of construction claims and disputes